Funnies
0
Now with popculture references!
1
Ever since switching to the portable (or as portable as a 17 inch laptop can be) device called a laptop, I've found a few things that are a bit of a trial that when using a desktop you'd take for granted. Such as pinpoint accuracy with your mouse movement.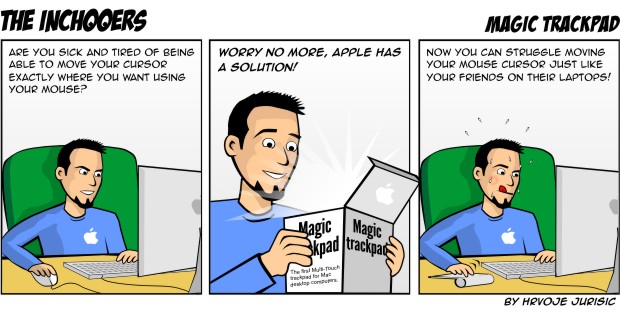 now I can finally share my experience with my desktop brethren! Huzzah! Screams of frustration and Micheal Jordan-esque tongue sticking out for everyone!
PS: The folks that make comics such as this arent' half bad bloggers either. have a look see here.
0
Only in PEI.. Here's the CBC article on the event.
A sale on Blizzards at the Charlottetown Dairy Queen during a special national promotional week caused traffic problems on University Avenue.
The buy-one, get-one-for-25-cents promotion in honour of the frozen treat's 25th anniversary brought thousands of people to the Charlottetown store.
With long queues at the drive-thru, police had to attend to direct traffic at the store on P.E.I.'s busiest street.
During last week's promotion, 12,000 Blizzards were sold in Charlottetown, more than one for every three residents. Cost of the frozen treats vary depending on size, but are generally under $5.
"It was pandemonium. Just an onslaught of everybody coming in to have Blizzards," said the Charlottetown store's general manager, Dave Marriage.
"We ran out of mix at 11 o'clock, just before we closed on the Sunday night. That's after projecting over double what we usually have in stock, as far as ice cream mix goes."
The store, which for years has topped all Dairy Queens in North America for annual sales, sold more Blizzards last week than any other outlet in the Maritimes.
Pretty wild to know that of all the places in North America, a town of less then thirty thousand has one of the busiest locations of a major franchise in their mist. Makes you want to go out and have a Blizzard.